Bacteria help to increase bees productivity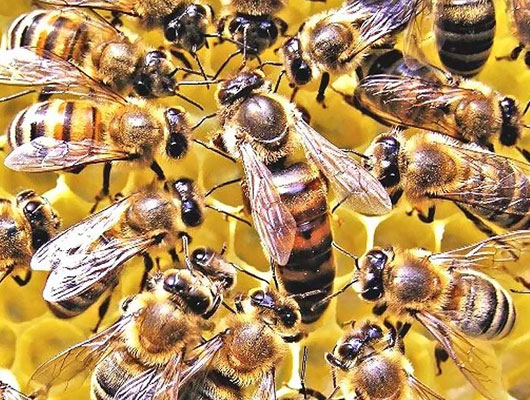 Application of Effective Microorganisms (

Baikal EM1

) to increase bee colonies productivity
I am a professional beekeeper from Serbia, engaged in the production of various types of honey and gueen bees breeding.
My farm has 500 beehives and more than 1000 boxes for breeding, which bring more than 30 tons of honey and from 2500 to 5000 queen bees every year.
Over the past 6 years, I have been experimenting with the bio preparation Baikal EM1. The experimental apiary has 300 beehives, of which 270 were processed by Baikal EM1. 30 beehives (10%) were a control group that did not receive Baikal EM1.
The bees received Baikal EM1 with feeding syrup and also as part of a water spray from the beginning of the season, i.e. from the first spring stimulation until October.
Initially, Baikal EM1 concentrate was added to the feeding syrup for bees at a rate of 50 ml per 1 liter of syrup.
For water spray, clean, non-chlorinated water was taken, to which 5 tablespoons of sugar and 50 ml of Baikal EM1 concentrate per 1 liter of water were added.
Feeding syrup was given to bees as and when required. Water spray was applied every time after completion of work with the beehive (frames with honeycombs were sprayed).
Positive results were noted in all beehives treated with Baikal EM1, i.e. there was some increase in productivity compared with the control group.
At the end of the 2019 season, i.e. from late July to early September, we increased the dose of Baikal EM1 to 100 ml per 1 liter of syrup, and as a result we got a much greater effect than the previous ratio of 50 ml per 1 liter showed.
With this proportion of 100 ml per 1 liter, the effect was really noticeable at first sight, but application time was too short so it would be premature to draw final conclusions for new proportion. Next year we plan to start the season with this dose: 100 ml of Baikal EM1 per 1 liter of syrup or water spray.
Personally, I recommend using Baikal EM1 at a concentration of 50-100 ml per 1 liter of pure water for spray or 1 liter of sugar syrup for feeding.
The control group that did not receive Baikal EM1, as a rule, developed more slowly. The effects that we noticed is completely positive, without side effects, not to mention contraindications.
Positive effects:
1. The productivity of bee colonies treated with Baikal EM1 increased by an average of 24.5% compared with the control group.
2. It was noticed that after spraying with Baikal EM1 water, the bees become much more alive, in the morning they fly out of the beehive earlier and return later in the evening.
3. Frames and hives are completely clean, no signs of any disease were observed.
Conclusion:
Baikal EM1, of course, cannot be considered a miraculous means that solves at once all the problems of beekeepers. But with continuous use during the season, it will undoubtedly demonstrate its true and magnificent effect.
-------------------------------------------------------------
Sasa Tatomirov
[email protected]
+381 (0)60-0-781-138 (Viber - Whatsapp)
-------------------------------------------------------------
Edited by Yury Smirnov, Eco-Minded Club
If you like this article please help keep us going, no matter the amount, your donation makes a difference!