Vedic Russia gatherings and festivals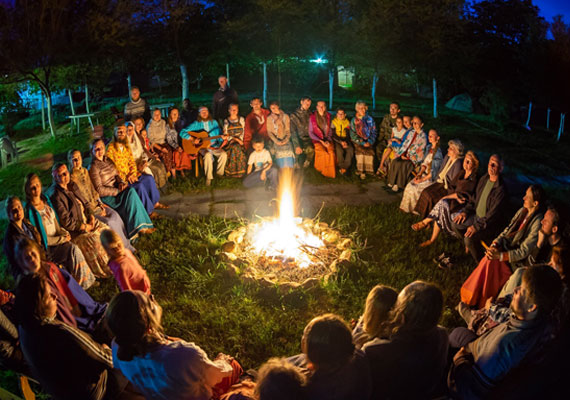 Every year eco-villages and eco-communities of Russian family homesteads (kin's domains) have different celebrations, folklore festivals and gathering. We call them gatherings of Vedic Russia, they revive true Russian spirit, Russian Vedic traditions, costumes and rituals from the old days...
Vedrussia (Sinegorie) is one of the biggest eco-villages of Kin's domains in Russia, with 270 families owning 550 hectares of land. It is located in the hills at 45 km from Krasnodar (130 km from the Black sea). I filmed some beautiful moments of the different festivals and now you can enjoy my short videos below:

Below you will find the dates of the festivals and gatherings they usually have every year in Vedrussia (50 km from Krasnodar).
1) Spring Zhiva-Yarga (spiritual and healing practices of our ancestors), May 1st - 4th
2) Magic seven-petal flower (dancing festival), June 11th - 17th,
3) Summer solstice festival (Kupalo), June 19th - 21st.
4) Journey through the magical worlds (role play festival), July 10th - 12th
5) Glorifying Perun celebration, July 17th - 19th
6) Ringing Cedars of Russia book readers gathering, July 31st - August 2nd
7) Journey through Vedrussia, August 25th - 29th
8) Two Hearts - One Melody (Soulmates gathering), September 13 - 18.
For details and to book your space contact Yury at [email protected]
Another popular place for Vedic Russia gatherings is a valey of Zhane river at Vozrozhdenie village, Gelendzhik region (25 km from Gelendzhik and the Black sea). Their festivals are listed below.

1) "From Heart to heart", June 15th - 21st,
2) Annual Festival of Positive Creation, September 21st - 28th. It is the most famous and popular Festival of Vedic Russia (more than 3000 like-minded people come every year).

Please enjoy some inspiring videos from the festivals.

Book your space at Vedic Russia Ethno-Eco-tour!
With any questions please contact Yury at [email protected]

We also have a huge collection of photographs from different Vedic Russia festivals/tours/retreats, we placed all of them on Flickr, please click on the Flickr link below and enjoy: https://www.flickr.com/photos/spaceoflove/albums


For upcoming tours and to book your space click here: https://ecominded.net/vedic-russia-ethno-tour
New inspiring film about ecovillage of Kins domains Vedrussia, September 2019.
If you like this article please help keep us going, no matter the amount, your donation makes a difference!