Dolmen Tours and Vedic Russia Retreats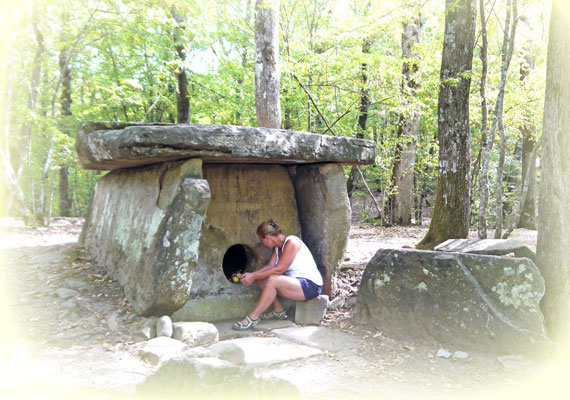 Ethno-tourism
is defined as exploration of indigenous populations and their respective culture and traditions. With regard to Russia one can talk about
family homesteads
in the form of eco-communities of Kin's domains, also called Ringing Cedars eco-villages that has become national idea of Russia for the recent 15 years. People co-creating these eco-communities prefer living their lives off the grid, close to nature. They provide a sustainable way of living and alternative holistic education for their children that also helps improve the quality of our planet. They revive old Russian spirit, pre-christian, Vedic Russia visions, traditions and rituals.
Having started with dolmen tours (pilgrimages) in 2009, turned into Vedic Russia Retreats in 2014 - 2018, we have finally come to Vedic Russia Eco & Ethno Tour which includes: visiting
dolmens
and other sacred places of the South of Russia, experience life in
Russian family homesteads
(kin's domains), participating in
gatherings and festivals of Vedic Russia
.
Basically Dolmen Tours and Vedic Russia spiritual Retreats are available for you in April, May, June, July, August, September and October. We are very flexible and are ready to discuss your requests and desires. YOU choose the month, duration and the dates!
Only in September the dates are fixed: 19th to 28th (10 days) - to get on time with huge annual event: Festival of Positive Creation.



What do you get at dolmens? Many wonderful, non-trivial, extraordinary and unusual things happen at Dolmens of Russia. You may experience disclosure of the potential you have been born with. Many people open themselves for new talents, they never had before - writing poetry, singing, dancing... some people paint wonderful pictures, all feelings are disclosed, inner vision and intuition are revealed... people realize their predestination, sometimes their life is completely changed and as a result, people come into harmony with themselves and with the Universe and start to perceive the Pulse of Life by their feelings. At dolmens you can ask questions, that are most important to you, you can make a wish or even ask for your dream to come true...

What do you get at Vedic Russia communities and gatherings?

● You experience life in
Russian family homesteads
(Kin's domains) staying with a family,
● You visit different kin's domains, learn about their life styles, ask your questions,
● You learn about Russian permaculture and biodynamic technics, off grid homesteadings approaches, power solutions etc.,
● You learn about slavic culture, Vedic Russia traditions and rituals,
● You enjoy traditional Russian (slavic) cuisine, vegetarian upon your request,
● You learn about eco-community alternative holistic education approaches.
● You may participate in many different festival activities upon your choice
● You will hear a lot of inspiring stories, participate in spiritual and transformational workshops.
● There is a beautiful Russian nature with hills and fields, waterfalls and streams, the city of Gelendzhik and the beaches of the Black sea waiting for you to explore!
Important:
Please check
Russian visa requirements
.
To book your airfare I would suggest you to use this service:
Skyscanner
Tour cost:
1160 EURO for the basic 10 days Vedic Russia Ethno-tour.
This includes all tour charges and costs in Russia: airport transfers, all transportation, food, accommodation, Translator's and Guide's services. Your airfare is not included. In most cases your Ethno-tour begins at Krasnodar or Gelendzhik airport. We ask you to pay
260 EURO deposit
in order to book your space in the group. The rest of the money are payable in one sum upon arrival to the place or may be paid beforehand upon your request. Let me assure you that you will have no hidden or extra costs to cover (everything is included) unless you decide to buy some souvenirs. :)
Special offer:
If you pay deposit for any tour before February 28 you will get
10% "early bird" discount
Discounts.
You may bring your children with you, children of all ages older than 6 are most welcome. A 30% discount is available for kids from 6 to 12 y.o. Family and group discounts are also available (3 or more persons).
Also please see estimated costs (in EURO) for the shorter tours in the table below (depending on the number of people and days).
| | | | | | | |
| --- | --- | --- | --- | --- | --- | --- |
| | single | 2 | 3-4 | 5-6 | 7-8 | 9-10 |
| 5 days | 680 | 600 | 520 | 440 | 380 | 340 |
| 6 days | 800 | 700 | 600 | 520 | 440 | 380 |
Payment Options:
| | |
| --- | --- |
| 1. Click on PayPal link to make 260 EURO deposit payment and book your space (totally secure!). | |
2. Make 260 EURO deposit payment from your bank account to the folowing bank account:

SWIFT: SABRRUMMRA1
Bank Name: SBERBANK (Yugo-Zapadny Head Office, Krasnodar region)
Bank branch: 8619/0766, Ilsky village, Lenina street, 184
BIC: 040349602
Receiver (account) name: Yury Yurievich Smirnov
Account number: 40817810530004605060
Receiver's address: Russia 353230, Krasnodar region, Ilskiy, Shevchenko 27
Receiver's mob. phone: +79615342712
R

efund policy.
The deposit is non-refundable but may be transferred to another date or to the next year upcoming tour upon your request. If you are not able to make the tour for any reason please let us know as soon as possible. The deposit is 100% transferrable provided you notify us no later than one month before the tour starts. The deposit is 50% transferrable provided you notify us later than one month before the tour starts. Please send all your enquiries and questions to Yuri at
[email protected]