Russian Traditional Birch Bark Crafts
Birch bark crafts were in great popularity and demand in Russia since ancient times. Birch bark contains fungicidal and antiseptic substances like betulin that help preserve bark artifacts, and were ideal for long storage of milk or water, as well as dry goods.
Birch bark crafts present an original form of folk arts and crafts. Strong and water-resistant bark can be easily cut, bent, and sewn and Russian handicraftsmen made great use of birch bark properties, such as outstanding softness, flexibility and durability kept even after processing.
Cylindrical birch-bark containers with tight-fitting lids were widely used for keeping food and drinks. Thus, for example, peasants took such containers with water or kvass to field work and the drink remained cold even on the hottest days. A peasant would wear a birch bark basket on the back and bast shoes, which were often made of birch bark. Boxes for flour and honey, bast baskets, shepherd's horns, and even ropes for fishing tackles - all these were made of birch bark.
The first records of birch bark processing technique date back to the 18th century. Birch-bark carving can be and is traditionally done with very simple tools, such as a knife and a prod. A pattern outline is drawn first and then is carved with a sharp knife. Carving and stamping on birch bark were sometimes combined with embossing, which resulted granular surface patterns. This technique is long since known in metal processing. It has been applied in birch-bark craft since the 19th century.
In the Arkhangelsk region boxes, cylinder containers, caskets, dishes, chests and other house utensils were made of birch-bark and painted with picturesque floral designs. As a rule, the handymen filled the item surface with a floral ornament of a thin meandering stalk with leaves and branches and smooth bends. Openwork "lace" of birch-bark was usually superimposed against a bright background of textile, foil or paper, thus adding to a highly decorative effect.
Birch bark is called sometimes Russian papyrus. In ancient Russia birch bark was used as paper. Thanks to rare qualities of this material we have unique examples of Old Russian literature. Lots of birch bark documents were found during excavations of ancient Novgorod. People wrote with special stick made of bone. We now have the proof that the majority of population in Novgorod in the 13th-14th century including peasants were literate and exchanged birch bark letters.
Birch bark crafts were popular all over Russia, major carving centres included Veliky Ustyug, Semenov, Archangelsk Region, Tomsk Region and Yakutia.
Eco-Minded natural store presents wide range of boxes, containers, jewellery made of birch bark.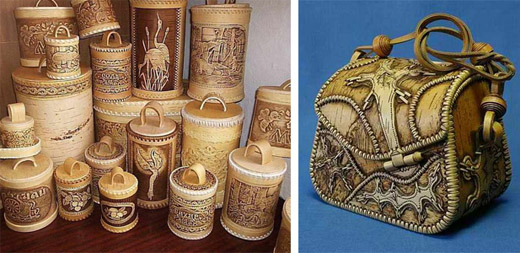 If you like this article please help keep us going, no matter the amount, your donation makes a difference!
Or scan QR code to donate!