Russian valenki against European gas crisis
In the time of the upcoming gas shortage in Europe Russian valenki is a precious gift for yourself, your children and family. Valenki are traditional Russian felt boots invented a long time ago as the best solution for cold Russian winters.
First valenki were made centuries ago from sheep wool to keep feet warm even with 40 degrees Celcius below zero. Genius invention was to make felt from 100% natural materials always available in poor villages. Available, durable and warm - it is used in various spheres of human life, in addition does not cause allergies and is perfect for both kids and the elderly. Firm and high, they served perfect for many-many years in one family and were even given as heritage to younger generations.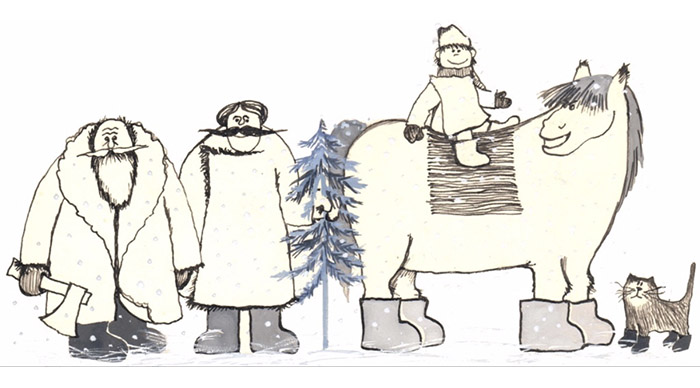 With the time people could not go without them. As a fact, Soviet soldiers could resist during II World War partly thanks to the best possible winter uniform with a must pair of valenki. Since then valenki boots are mass manufactured for Russian army and there is no another alternative because of their frost resistance, warmness and longevity.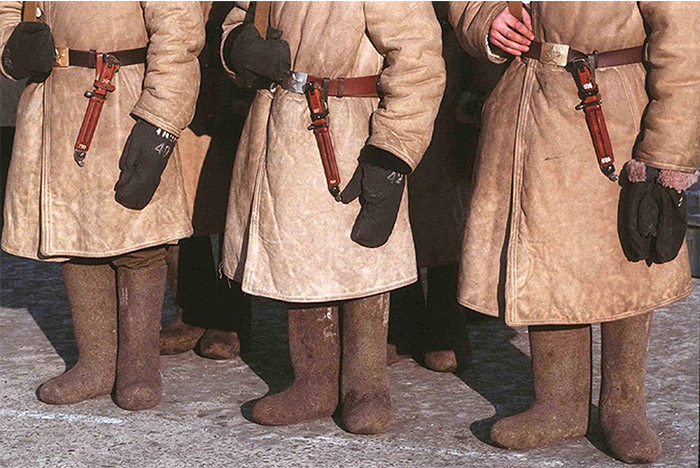 Russian valenki are to be worn inside and outside. If you wear valenki inside, they are just like perfect light wool socks with a special healing effect through wool warmth and micro massage. If you wear valenki outside, then you enjoy frosty winters days without getting cold. For outside, you can take valenki as it is, or with galoshes (rubber shoes) or on rubber soles to be protected from getting wet.
Valenki not only save the feet in the winter from frost, but are also able to heal: natural sheep wool has the unique ability to absorb and evaporate moisture, while remaining dry, so wearing boots helps to cope with colds faster.
Sheep wool is saturated with lanolin (animal wax contained in wool) - a unique and very useful substance for skin, muscle and bone tissue, respiratory system. When worn, woolen items heat up and secrete it. Lanolin effectively relieves muscle, joint and rheumatic pains, and dry heat not only relieves nervous tension, but also contributes to the rapid healing of wounds and fractures, prevents the development of inflammatory processes.
Valenki, shod on bare feet, have a massage effect due to the microdisins of wool hairs, and due to the friction of the foot on the wool, an electrostatic field is created that improves blood circulation, which is useful for tired legs. In addition, scientists have found that felt shoes have the ability to expand blood vessels and improve blood circulation, which has a beneficial effect on male potency. Well, the fact that the boots treat a hangover, said Peter the Great. And not without reason. Sheep wool, warming the legs, dilates blood vessels, restoring blood circulation throughout the body.
No material has such unique properties as natural sheep wool. Trust nature and be healthy!

Wearing valenki.
Before wearing for the first time, it's good to decide which felt boot will be right and which will be left. And fix left and right with some kind of mark. If there is a drawing, patch, etc., then in the future you can navigate by the pattern. Left and right felt boot will eventually take the shape of each foot.
Taking care of valenki.
Caring for felt boots has its own peculiarities. Wet felt boots are not dried on a radiator or near the stove, so that they do not become tough and lose their shape (along the leg). It is better to put newspaper in them and dry at room temperature.
After a walk, you need to shake off the snow from your boots with a broom.
Dirty felt boots are cleaned with a not very hard brush or slightly damp sponge (rag), but they are not washed. After washing, felt boots are deformed and lose their best qualities. When cleaning with a damp sponge, you can add any carpet cleaner to the water. There is another way to clean boots, which is rarely remembered. Semolina (cereal) is poured onto the contaminated places, rubbed into the felt, and then cleaned out with a brush. This method is only suitable for light-colored felt boots.
Valenki may be eaten by moths. So for storage, you should clean them up and put lavender or a special anti-moth pill into each felt boot.