Breaking news: Health Virus hits the Earth!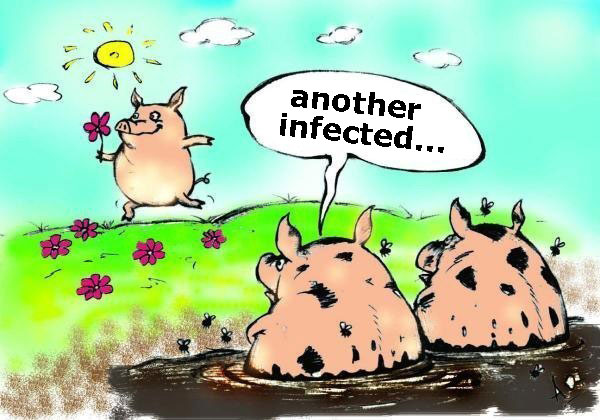 Attention people! Urgent information! Just released!
New pandemic: The number of
healthy
people is growing rapidly around the world!
Thousands of such people were discovered in China, as well as in Italy, Russia, Ukraine! The health virus also crossed the Atlantic and began to infect America, both North and South!
The people infected with a health virus are extremely dangerous! They don't buy medicine at pharmacies, don't go to hospitals, don't talk about illnesses, play sports, eat healthy food, don't drink, don't smoke, don't use drugs! They smile and they almost all the time have a good mood!
The authorities are in panic! Urgent measures are being taken to protect society from such infected people! In state-controlled media, information about the extreme danger of the health virus is being inflated, vaccines for such a virus are being purchased in large quantities! On TV, the maximum amount of time is devoted to diseases, pills and information that a person cannot be healthy, especially, self-sufficiently!
Here is an instruction: how to protect yourself from a
health
virus:
If, heaven forbid, a healthy and sporty person ran across your path, do the following:
1. Recall that this person is infected with a severe form of the health virus, and if he/she also smiles, then the disease has already turned into an acute form.
2. Urgently take the following measures to protect yourself from possible infection:
- Be sure to get scared. The stronger the fear, the better for you, and worse for the health virus
- Read/watch maximum possible amount of information about viruses, diseases and MANDATORY, write a couple of posts on Facebook, discuss all these diseases with the maximum number of people! Without this, protection would not be effective!
- Further it is necessary, if possible, to find these diseases in yourself, you really need it! No way without it!
- Then you must definitely go to the hospital, look at the patients out there and without losing confidence that you are terribly sick, visit a doctor!
- Next, you need to convince the doctor that you are sick. Even if the doctor says that you are healthy, by any means require him to recognize you as a patient and prescribe medication! That's for sure!
- Then feel sorry for yourself, as how miserable you are. This is also an important point of protection against the health virus, otherwise, feeling happy and joyful, you can become infected with this extremely dangerous health virus!
- Continue to watch TV. Be sure to watch only those channels where they talk about diseases! News is your program! And of course, there is no need to remind you that you should always trust what they say on TV - completely, implicitly - they say only the truth out there!!!
- In no case do not stop discussing the diseases with other people - this is the key to your protection from the health virus!
- And of course, you should not wash your hands after coming home, this is a matter of fact.
- If you suddenly felt the symptoms of a health virus, such as an increase in the amount of energy, feeling of happiness, love, joy, if something stopped hurting you, if you suddenly stopped feeling sorry for yourself, if you were pulled by fresh fruits and vegetables, you started drinking clean water instead of store drinks, you were drawn to sports, you know - you got infected!
- But no need to panic!
- First of all, calm down and take all necessary measures: go to the pharmacy and buy as many medicines and vaccines as possible and take them all.
- If there are no medicines at hand, drink vodka, smoke a cigarette, for a while it will ease your torment and relieve symptoms until the medications are taken continuously.
- And again, the TV helps you! News and only news! Only negative, only about diseases!
We hope this short instruction will help you to avoid the dangerous disease caused by the health virus that has already infected a huge number of people around the world!
Hang on, people!
--------------------------------------------------------------
For more news of interest check Eco-Minded Club and our News section.
If you like this article please help keep us going, no matter the amount, your donation makes a difference!