How to make a handle for ploskorez
DIY instruction for sustainable gardener
Ploskorez (Russian flat-cutter) - universal permaculture garden tool from Russia.
The oversized length of a handle makes delivery cost so high that we counted for the best to offer you 2 options:
1. Make a handle yourself or with the help of a friend or a handyman - please check detailed step-by-step instructions below.
2. Order a handle at ecominded shop - for some extra delivery cost - https://ecominded.net/handle-for-ploskorez
To make a handle for ploskorez Fokina you will need a wooden plank (pine wood is fine) with the following dimensions:
Length: 130 - 140 cm, Width: 3.0 - 4.5 cm, Thickness: 1.8-2.0 cm.
You will also need a planer, a drill with an 8 mm drill bit and a sandpaper.
1. Use a planer to cut the edges of the plank. Make sure you set the minimum cutting edge of the planer nife.
IMPORTANT: Leave about 20-25 cm at end of the plank unplaned - you will need it later to mark the holes.

2. Marking the holes. Take a ruler and a pencil.
You need to draw 2 parallel lines along the axis of the plank at equal distances from the edges. The distance between the lines should be 4 - 5 mm.
For example if you have a 4 cm width plank - measure 18 mm from each edge and you get 4 mm distance between the marks (and the lines).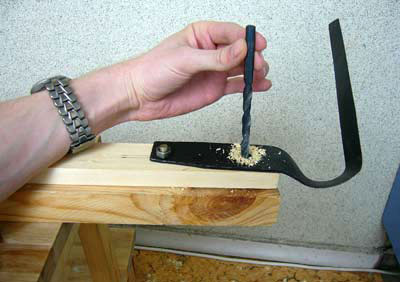 3. Drilling the holes and adjusting ploskorez.
Appose ploskorez to the plank the way it is shown on the picture.
Align the holes on the ploskorez with the lines as it is shown on the picture and mark the holes with a pencil.
Drill the lower hole, put the ploskorez on, insert the bolt and tighten the nut.
Align the upper hole of the ploskorez with the two lines and drill the second hole in the plank right through the ploskorez hole.
Tighten the second bolt and nut.
Important note: there should be only 2 holes on the handle (not 3). That's why only 2 screws come with the flat-cutter. The 2 lower holes on the metal part of the flat-cutter are used for adjusting. You should choose one or another hole to adjust the angle of the flat-cutter, most comfortable for you.

4. Sanding with sandpaper to make the handle smooth and comfortable.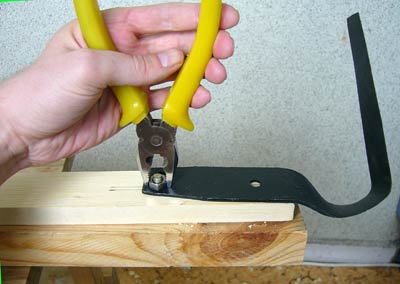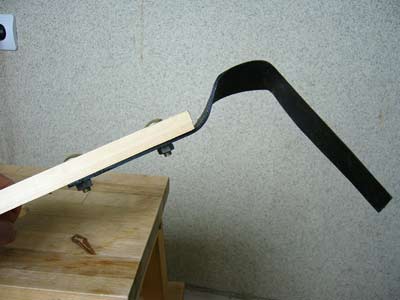 All done! More info about ploskorez Fokina here. Place an order here!

If you like this article please help keep us going, no matter the amount, your donation makes a difference!